Sometimes, we need to do things in different ways.
I've a new ESXI 5 Server, and i want to have a NAS virtual machine on it.
The problem is that ESXI doen't not support direct access to SATA drives, and use virtual image disks for a NAS is not a good thing (very bad performance).
For bypass this problem, we use Raw Disk Mapping (RDM).
Please use at your own risk, and if you do escalate a Support Request (SR) to VMware Support, do not be surprised if they state this is unsupported.
VMware's definition of an RDM 
'Introduced with VMware ESX Server 2.5, raw device mapping allows a special file in a VMFS volume to act as a proxy for a raw device. The mapping file contains metadata used to manage and redirect disk accesses to the physical device. The mapping file gives you some of the advantages of a virtual disk in the VMFS file system, while keeping some advantages of direct access to physical device characteristics. In effect, it merges VMFS manageability with raw device access.'
Traditionally and VMware supported, a Raw Disk Mapping (RDM) which may be used to present a LUN directly to a virtual machine from a SAN. The SAN could be Fibre Channel or iSCSI.
Why would we want to create a Raw Disk Mapping (RDM) of a local storage device?
A few valid reasons why you may want to create an RDM of a local storage device.
This solution creates a RDM virtual disk proxy mapping file on an existing mounted VMFS datastore. This virtual disk proxy mapping "file" is then added to a Virtual Machine. I would recommend that RDM disks are used for data storage only e.g. SQL databases, large file servers.
The following procedure can be used to create the RDM on a local storage device. In the following example, a Seagate ST3500320AS 7200k rpm 500GB SATA disk is going to be used to create an RDM.
1. Connect to the VMware Hypervisor ESXi server via SSH
If the disk has some old partition, you can remove them with:
# fdisk /dev/sdb
Output:
The number of cylinders for this disk is set to 9733.
There is nothing wrong with that, but this is larger than 1024,
and could in certain setups cause problems with:
1) software that runs at boot time (e.g., old versions of LILO)
2) booting and partitioning software from other OSs
   (e.g., DOS FDISK, OS/2 FDISK)
Command (m for help):
(where /dev/sdb is the added disk)
Now type p command to list partition:
Command (m for help): p
Output:
Disk /dev/sdb: 500.0 GB, 80060424192 bytes
255 heads, 63 sectors/track, 9733 cylinders
Units = cylinders of 16065 * 512 = 8225280 bytes
   Device Boot      Start         End      Blocks   Id  System
/dev/sdb1   *           1        2432    19535008+  83  Linux
/dev/sdb2            2433        2554      979965   82  Linux swap / Solaris
Now let us say you want to delete /dev/sdb1 (1st partition). Type the d command to delete a partition:
Command (m for help): d
It will prompt you for the partition number. Type 1:
Partition number (1-4): 1
Verify that partition deleted:
Command (m for help): p
Now save the changes and exit to shell prompt. Type the w command:
Command (m for help): w
Let's add a new partition:
Command (m for help): n
and save again:
Command (m for help): w
We need to format this partition with a filesystem for mount on Ubuntu, so:
use mkfs.ext4 to format the partition with ext4:
mkfs.ext4 /dev/sdb1
Note that mkfs.ext4 expects a partition as its argument, and it have to be the new partition that we have created above.
Ok, so now the last thing is add the new partition in webmin: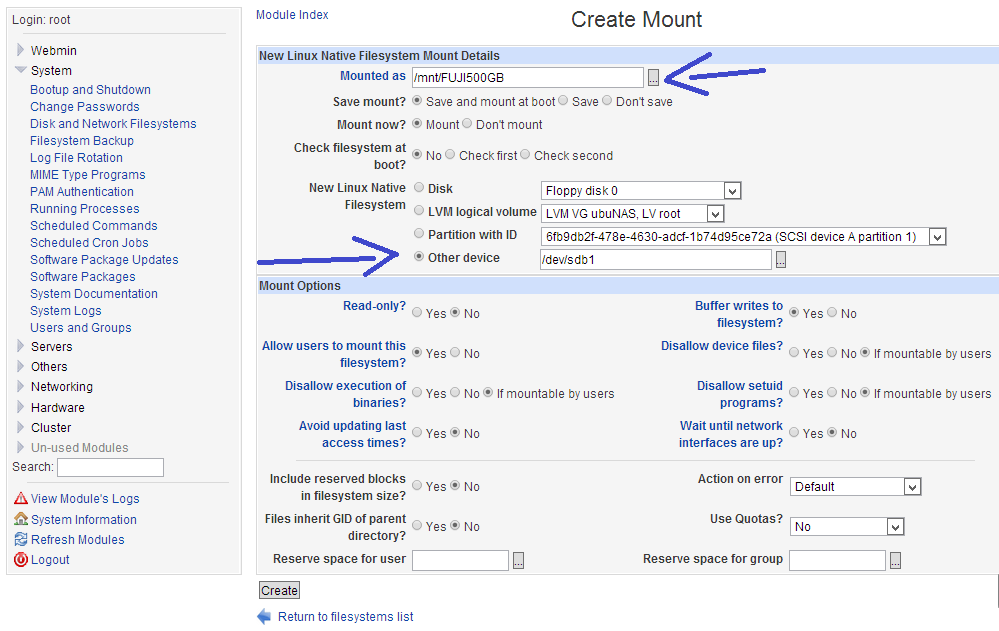 This is a little read/write test  between this VM (with SATA mounted) VS a real ubuntu machine. The Source 4GB file is on a RAID in Gigabit Lan.
Write of file on VM:
60mb/s
Write of file on ubuntu machine:
50mb/s
Read of file from VM:
75mb/s
Read of  file from ubuntu machine:
45mb/s
Performance is not so bad! 😀